This work is aimed to highlight and publish the

Collection of Thin Sections of Soils

obtained by

Prof. Walter Kubiëna

during his several stays, between 1943 and 1970, in the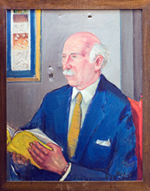 former

Institute of Pedology and Plant Biology

(

Instituto de Edafología y Biología Vegetal)

of the

Spanish National Research Council
(

CSIC

, Madrid)
. In addition, it contributes to the celebrations of the

Spanish Soil Science Society

(
SECS
) related to

2015 International Year of Soils

(UN Declaration A/RES/68/232).


Walter Ludwig Konstantin Ritter von Kubiëna

(1897-1970)
, born in the former Moravia, began his studies in 1922, graduating in Soil Science and Geology at the
Hochschule für Bodenkultur

in Vienna
and the

University of Vienna

, respectively. In 1927 he received his Ph.D. degree and in 1930 he started teaching under Prof. Dr. H. Kaserer at the

Hochschule für Bodenkultur

in Vienna. In 1937 he became "ausserordentlicher Professor" at the Department of Geology and General Soil Science and in 1941 full professor of Geology at the same institution.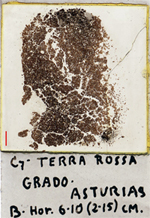 From the beginning Kubiëna thought that the microscope had to be employed in the study of soils, because it is a whole, and its partial or modified study did not allow its global knowledge [Obituary on Prof. Kubiëna: Ángel Hoyos de Castro, Anales de Edafología y Agrobiología (1970) XXIX, 753-765]. This led him to develop a procedure for observing the soil without disturbing it, developing a sampling technique (called Kubiena boxes) and to prepare thin sections for its observation and study. After a stay at the University of Iowa (USA) as a visiting professor in 1937, he published the book entitled

Micropedology

, key work and start point of the science called

Soil Micromorphology

. According to Kubiena, different soil types should have different microstructures that would serve for their characterization. With these ideas he began his explorations around the world to study the soils, always accompanied by a small microscope to recognize them in the field.

As a result of his deep knowledge of soils, Kubiëna faced the problem of their classification and thus, in 1953, wrote the book
The Soils of Europe
, published simultaneously in German (
Bestimmungsbuch und Systematik der Böden Europas
), English and Spanish (
Claves Sistemáticas de Suelos
)
. In 1955 he became Director of the

Department of Soil Science

of the

Federal Forest Research Centre

in Reinbeck (Hamburg, Germany). There he was visited by numerous researchers from other countries to learn micromorphology, including Altemüller (Germany), Jongerius (Netherlands), Brewer (Australia) and Fedoroff

(France). The Spaniards Hoyos de Castro, Delgado, Paneque, Alías and Benayas were part of the list of his distinguished pupils.

For his scientific career, Kubiëna received many awards and honors. The

Alfred Toepfer Foundation

awarded him with the

Justus von Liebig Prize

; he was honorary member of the
CSIC
and of the

Soil Sciences Societies

of Austria and Germany, and Doctor "honoris causa" of the

Complutense University of Madrid

(Spain) and

Santa María de Rio Grande

(Brazil). The Kubiena Medal is the only medal awarded by the

International Union of Soil Sciences

(

IUSS

) and is given for outstanding and sustained performance in the discipline of soil micromorphology.


This document includes a literal transcription of the manuscript completed in 2002 by Drs. Benayas and Martin Ramos on the work of Prof. Kubiëna, as well as the photographs of the collection trays made by Mr. Antonio Jorge (2014). The greatest scientific value of the present publication is mainly due to the cooperation of Prof. Carlos Dorronsoro (

Department of Soil Science, Univ. of Granada

), who made the navigable macroimages and microphotographs (2014-2015).

The original thin sections of this collection are deposited in the

Institute of Agricultural Sciences

(

Instituto de Ciencias Agrarias, ICA

), former

Institute of Pedology and Plant Biology

(

Instituto de Edafología y Biología Vegetal

), and are part of the historical heritage of the
CSIC
. The same institute also maintains the original watercolor paintings
made by Gertrud Kallab and Anton Prazak,
included in the book
The Soils of Europe
.


M. Teresa García González


Director, Institute of Agricultural Sciences




Spanish National Research Council


Madrid, January 2015

---
Additional information for the reader

These pages are composed of a general table (accessed through the link shown above as

Home) containing a list of all trays and thin sections, with the same structure of the original work sheets. The table shows several photo-camera symbols that link to pages showing trays and thin sections. In addition, all displayed images are linked to larger ones, or to navigable macroimages and microphotographs. Text in remaining pages has not been translated into English.

Enjoy it!

---
© CSIC.
The text, data and information in these pages are available for personal use only. Therefore, permission of the CSIC is required for their publication, distribution or inclusion in any context accessible to third parties
(
direccion.ica@csic.es
)
.
---